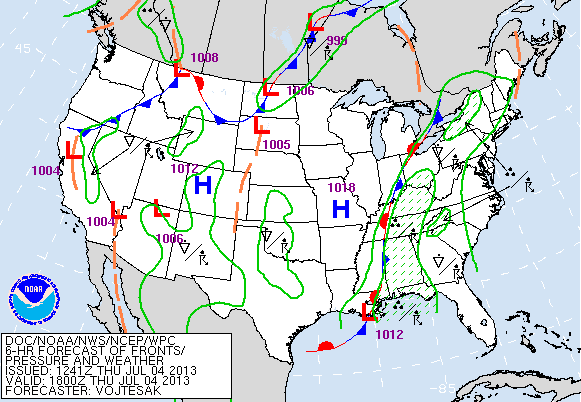 Happy Independence Day! I know we're all looking forward to some BBQ food and fireworks, but this stubborn rain just hasn't quite moved out yet. The stationary front just off to our west has kept most of the heavy rain into Alabama and Tennessee early today, but a few pockets of downpours have gone through the Upstate, Western NC and northeast GA. Though we are starting to see a break in the rain, mostly cloudy skies and a few showers will continue to pop in over lunchtime. Breaks in the clouds are possible, but any sunshine we see will stir up the instability, in turn giving us a chance for stronger showers and afternoon storms to move in. Through the evening, slightly drier air is expected to move into our upper atmosphere, which won't eliminate our rain chance, but will improve our chance for some dry spots for late-evening fireworks displays. The flash flood watch has been extended for our area until 8:00pm.

Starting Friday, the Bermuda High just off the Carolina coast will begin to strengthen and subsequently start to dry us out. Shower/storm chances lessen Friday, and even more into Saturday. Warmer air will also begin to build in, but with our continued humidity, we'll be keeping a chance for afternoon storms in our forecast still for the next couple of days at least.
Hope y'all enjoy the day, Happy 4th!