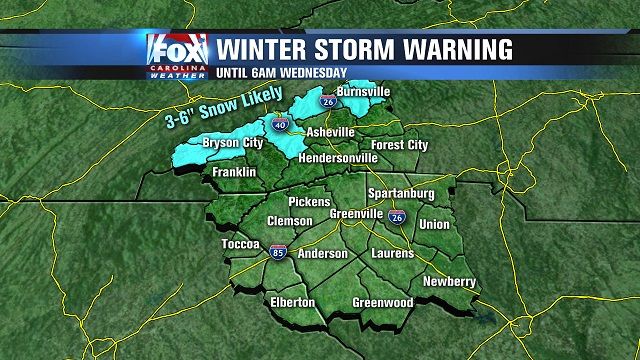 We have an interesting day ahead, though Upstate residents won't be dealing with nearly as much as the mountains (as usual). Today, expect sun & clouds Upstate, with a slight chance for a quick shower. Highs reach 50 but start to drop this afternoon as the wind picks up. For the mountains, scattered rain/snow mix showers around lunchtime turn to snow by mid-afternoon. TN border could see 3-6", with less accumulation in lower elevations. All of Western NC should keep a lookout for black ice before the end of the day. Highs in the mid-30s and getting colder after lunchtime as the wind picks up.
Because the wind will be picking up this afternoon, and gusting to near 34mph, a Wind Chill Advisory is in effect for all of Western NC. At times we could feel like it's between -5° to -20° outside, so that poses a threat for frostbite and hypothermia if you spend a good deal of time outside unprepared.

Along with the cold blast and windy conditions, the snow expected for Western NC is prompting Winter Weather Advisories for some, and Winter Storm Warnings for others. In general, most of Western NC will see little to no accumulation. However areas listed below show a good possibility of significant snowfall. For Graham, Swain, Haywood, Buncombe, Macon, and northern Jackson counties could see about 1-2" of snowfall between lunchtime and early Wednesday.
For the entire Tennessee border, 3-6" of accumulation is likely by Wednesday morning, with isolated highest-elevation amounts slightly higher. The issue here is that accumulated snowfall will have a high possibility of blowing around as the wind continues to gust, so we need to be aware of lessened visibility for overnight travel.